We get it when your tabs and online results read, "great weekend getaways from Kolkata."
Sure, city lights are charming and comfortable, but every once in a while the heart longs for the quietness of the beach or faraway land from the hustles of life.
If you happen to be in Kolkata and wish for a quick trip nearby, then this article will help find the best place to make the most of your day.
West Bengal, the diverse land, stretches from the Himalayas in the north to the Bay of Bengal in the south. The plateaus and plains cover the rest of the area. If we sit here to discuss the breathtaking landforms of Bengal, you might find yourself immediately hitting the road.
Landforms of West Bengal
Now you are planning an amazing weekend getaway from Kolkata, for which it is crucial to acquaint yourself with the various landforms of West Bengal. This will help you decide where you can find the peace you are searching for.
The mountains of the north
If you are debating whether or not you are a mountain person, then you are yet to experience the charms of North Bengal. Parts of Darjeeling and Jalpaiguri districts constitute a young fold mountain area.
The deltas and riverine plains of the south
Stretching from the north to the south coasts, you can find six different units of riverine and deltas. They are:
Terai and Dooars
Rarh Plains
Northern Plains
The Ganga Delta
The Sundarbans
Sandy Coastal Plains
The western plateau
Made of igneous rock, the Chota Nagpur plateau is located in the western part of Bengal. It is the oldest region of this state, covering the Purulia district and parts of Burdwan, Bankura, Birbhum, and Midnapur.
Best 6 Weekend Trip Near Kolkata for Every Type of Traveller
Are you ready to pack your bags and explore some interesting places near Kolkata? Here's the list:
1. Henry's Island
Serving the best weekend getaway from Kolkata is this quaint beach named Henry's Beach, located on the western end of the Sundarban. Henry's Island is one of the popular places for those travellers seeking tranquillity. The white sand beach, the forest, the blue sea, and the panoramic views are what make the place stand out. Henry's Island is truly a must-visit for everyone looking to unwind from the monotonous life.
Henry's Island was named after a British surveyor who stayed and survived in the region almost about a century ago.
To reach Henry's Island from Kolkata, train and road are the two best options. You can hire a cab or board a bus to Bakkhali, where the local transport will take 20 mins to reach the Island.
Things to do on Henry's Island:
Henry's Island
Fraserganj Wind Park
Bakkhali Watch Tower
Jambo Dweep
Distance: 126 km
Best time to visit: November to February
2. Bishnupur
Talking of a weekend getaway from Kolkata, the places assuring peace, relaxation, and thrill are in most demand.
Eager to explore a small town to bring out your artistic side? Bishnupur in West Bengal is quite popular for its terracotta temples. It is rich in handicrafts, music, and architecture. A rich heritage, Bishnupur is a small haven for art lovers. The town was established in the 17th century and carries significant history and architectural wonders.
The best way to reach Bishnupur from Kolkata is to take a train which takes not more than four hours. You can also arrive at Bishnupur via a cab or a bus.
Things to do in Bishnupur:
Rasmancha
Jorbangla Temple
Madanmohan Temple
Dalmadal Kaman Canon
Gate of Old Fort
Bishnupur Museum
Distance: 138 km
Best time to visit: October to March
3. Shantiniketan
The abode of peace, Shantiniketan deserves a spot in our top six best weekend getaways from Kolkata. It is situated in the north-central region of West Bengal, well-known for Vishwa Bharti University, which was founded by the Nobel Prize in Literature winner Rabindranath Tagore in 1921.
The unique setting of the small town will send you absolute peace and serenity. One can truly taste the greatest blend of art, culture, music, and literature.
The best way to reach Shantiniketan from Kolkata is by train. The station named Bolpur railway station is located just 2 or 3 km away from Shantiniketan.
Things to do in Shantiniketan:
The Tagore House
Khoai Sonajhuri Forest
Chhatimtala
Amar Kutir
Singha Sadan
Kala Bhavana (Nandan Museum)
Distance: 161 km
Best time to visit: October to June
4. Digha and New Digha
One of the most popular places in West Bengal, Digha and New Digha, is a seaside destination. Sitting in the top six list in the favourite spots in West Bengal, Digha and New Digha can be easily reached via train, bus, or car.
Every year, a huge number of visitors line up at the beach, seeking relaxation from the busy life. The scenic beauty and the mesmerizing horizons are to die for!
Things to do in Digha:
Digha cashew garden
New Digha Beach
Shankarpur Beach
Chandaneswar Temple
Marine Aquarium and Regional Centre
Talasari Beach
Mandarmani
Udaipur Beach
Distance: 180 km
Best time to visit: October to February
5. Kurseong
Kurseong can be your perfect weekend trip from Kolkata. The land of white orchids, as they say, is divine, tranquil, and rejuvenating. Kurseong is a treat to the mind and soul. It is situated near Darjeeling, another famous hill station in West Bengal.
If you are looking for a quiet surrounding to enjoy pleasant and mild weather, then head to Kurseong. The attractive snow-clad mountains, tea plantations, hill slopes, and the British remnants will behold you in their beauty.
Although there's no direct mode of transportation between Kolkata and Kurseong, a faster route to reach Kurseong is via a flight to Bagdogra Airport, where you get a cab, which takes 3 hours to reach Kurseong.
Things to do in Kurseong:
Netaji Subash Chandra Bose Museum
Tea Gardens
Eagle's Crag View Point
Margaret's Deck
Dow Hill
Dow Hill Park
Giddapahar View Point
Castleton Tea Factory
Trekking in Kurseong
Toy Train Ride
Distance: 611 km
Best time to visit: March to June
6. Jaldapara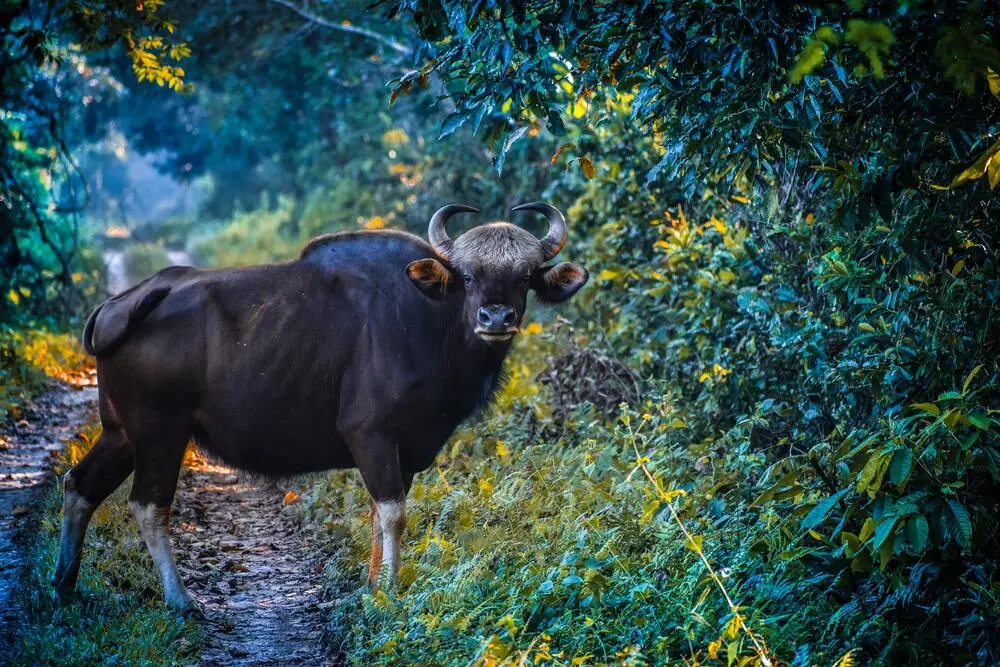 Imagine a river flowing through a rainforest sanctuary. Now imagine an expansive grassland, tall trees and diverse flora and fauna. Isn't it thrilling? We are talking about Jaldapara, especially known for the one-horned Asiatic rhinoceros, which is threatened with extinction. The Rhino crowd is the second-largest in the world just after Kaziranga in Assam. The sanctuary has an area of 141 sq. km.
The sanctuary welcomes river Torsa, Hollong, Malangi, Bhaluka, Kalijhora, Chirakhawa, and Buri Torsa, which is what makes it a vast grassland and the dwelling place of reptiles, birds, mammals, and amphibians.
Jaldapara National Park can be reached in multiple ways by bus, car, train, or plane.
Things to do around Jaldapara:
Jaldapara National Park
Gorumara National Forest
Buxa Tiger Reserve
Phuentsholing
Alipurduar
Chapramari Wildlife Park
Suntalekhola
Distance: 686 km
Best time to visit: September to May
Now tell us what's on your list or the places in West Bengal that you find fascinating? Comment below!
Meta Description: For a short trip, you need to ensure that it is going to be great. We have created a list of the six best weekend getaways from Kolkata for you.
Featured Photo by Boudhayan Bardhan on Unsplash