Kala Ghoda
Kala Ghoda which means a black horse. Its actually a locality in Mumbai famous for heritage locality which includes some iconic landmarks of the city such as Prince of Wales Museum or Chhatrapati Shivaji Maharaj Vastu Sangrahalaya, National Gallery of Modern Art, Mumbai University, David Sassoon Library, Jehangir Art Gallery, Bajaj Art Gallery, Bombay Natural History Society, National Gallery of Modern Art and many more.
Kala Ghoda Arts Festival
Kala Ghoda Arts Festival is a nine-day event which starts on first Saturday of February.The festival or the event takes place on K Dubash Marg which starts from Mahatma Gandhi Road where the Black Horse(Kala Ghoda) Statue had been installed. The main event takes place in K Dubash Marg but also many nearby areas.
The Kala Ghoda festival doesn't have an entry fee so it gets crowded during Holidays. The Festival is organised by the Kala Ghoda Association.
The festival hosts various events on art, dance, theatre etc so be sure to check the schedule on their website so that you don't miss your favourite events.
Beside art lover, people visit for fun; mostly to click pictures with the artworks. So make sure to choose a proper time so that you can click a better selfie with the art installations. Non-peak hours would be afternoon and morning time. So weekdays are much better than weekends.
There can be a lot of Parking problem. The place is situated in the heart of the city is well connected by public transports. It's better to use the local trains, taxi/cabs or bus. However, if you are visiting this event during the afternoon, morning or evening I would suggest to take a walk and enjoy the heritage architecture of the city.
My Last Year Visit to Kala Ghoda Art Festival
As per my plan I took a train to get down to CST station. There are many buses available to reach Kala Ghoda as it is the central tourist location/ business location of the city of Mumbai.
On reaching the spot I found a long queue outside the event gate. There was a separate queue for the people carrying bags. Since it was a Sunday it was really crowded. The installations were really creative but I was unable to get a good view of those artworks as most of the people were busy clicking their photos with them.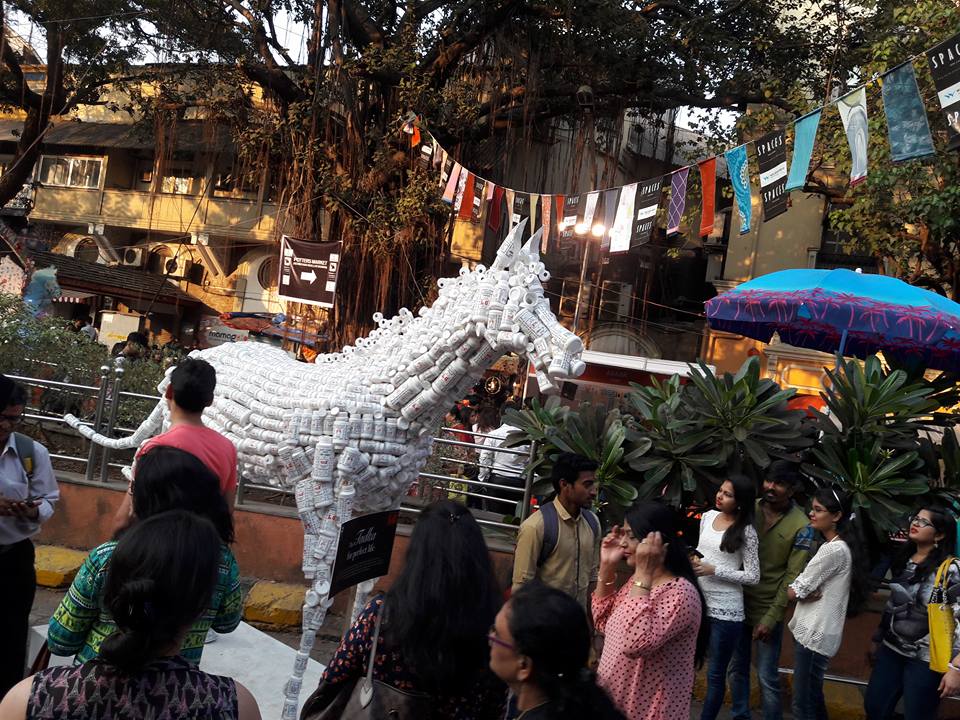 I didn't wait till the Sun went down and walked my way back to CST station. On my way, I found many other art installations near the main event.
Here is a glimpse of last years Kala Ghoda Festival.
This is a great event that everyone can enjoy whether he is an art lover or not.